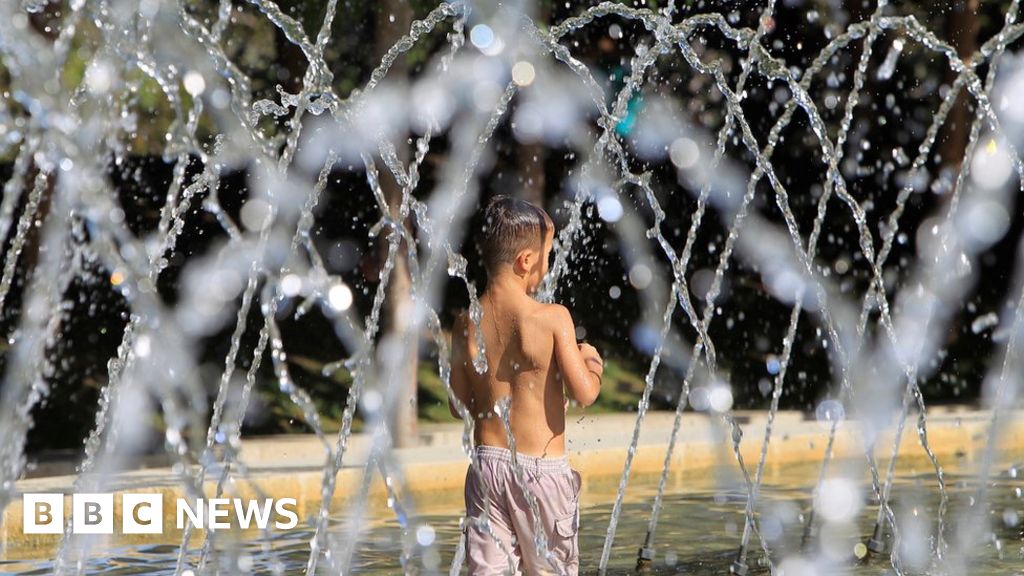 As Europe bakes in another heatwave, forecasters say the all-time temperature record could be broken in the coming days.
The current European record is 48C (118.4F) set in Athens in July 1977.
Temperatures are rising in Spain and Portugal, aided by a surge of hot air sweeping in from Africa.
Forecasters say the heat in some parts could keep rising, breaking national records and even the 41-year-old European record.
Spain's national weather service has put a warning in place until at least Sunday, saying the heatwave will be "especially intense and lasting in the southwest".
Europe's weather warning group, Meteoalarm, has already issued red warnings – categorised as very dangerous and posing a risk to life – for much of southern Portugal and for the Badajoz province in Spain.
BBC weather forecaster Nick Miller said the "dangerous, potentially record-breaking heat" across the Iberian peninsula could see temperatures "soaring into the upper 40s".
Portugal's national record is 47.4C (117.3F), set in 2003. Spain's peak of 47.3C (117.1F) was only set in July last year.
"Friday and Saturday are likely to be the hottest days with a very real chance of breaking records," forecaster Meteogroup said.
Temperatures will climb from 45-46C on Thursday to 47C by the weekend – and "it is quite possible we will break the Spanish and Portuguese national records".
Meteogroup said there was a 40% chance of equalling the 48C record from Athens – and "a 25-30% chance that we will break the European temperature record".
European temperature records
Ipma, the Portuguese national weather service, said the period of exceptional heat was comparable to the 2003 record-setting season.
Even the lowest overnight temperatures would stay between 25-30C (77-86F) for much of the country, it said.
The sweltering Iberian temperatures follow weeks of sustained heat across Europe.
Sweden's highest peak, a glacier on the Kebnekaise mountain, is melting at a rate of several centimetres a day. Scientists monitoring the decline say the glacier will lose its title of the highest point to the mountain's northern tip.
Wildfires have raged across Greece killing more than 90 people, and Sweden has battled dozens of fires as far north as the Arctic circle. While fires are an annual problem in much of Europe, the hot, dry conditions for an extended period of time made those fires much more likely.
Researchers said that climate change made Europe's extended heatwave twice as likely as it would otherwise have been.
The long, hot summer has been so consistent that it has put a strain on German breweries, who have sold so much beer that there is a bottle shortage – bouncing back from record low sales last year.
And in the German state of Saxony-Anhalt, extremely low water levels in the river Elbe have led to the discovery of World War Two grenades and ammunition, police said.
A minority of discoveries were made by people actively searching for old explosives on the river bed – which police warned was both "forbidden and dangerous".
---
Are you in an area that has issued a red weather warning? Share your experience by emailing haveyoursay@bbc.co.uk and send pictures or video to yourpics@bbc.co.uk
Please include a contact number if you are willing to speak to a BBC journalist. You can also contact us in the following ways: