US President Donald Trump says he wants Russia to be part of the G7 group of key industrialised nations.
Russia was expelled in 2014 following its annexation of Crimea, but Mr Trump said he wanted the country readmitted.
The build-up to the meeting has seen major disagreements between the US president and other nations over his imposition of trade tariffs.
There are also likely to be disagreements with Mr Trump over Iran and climate change.
The G7 summit, which groups Canada, the US, the UK, France, Italy, Japan and Germany, is being held in the town of La Malbaie in Quebec, Canada.
The leaders of the nations, which represent more than 60% of global net worth, meet annually. Economics tops the agenda, although the meetings now always branch off to cover major global issues.
What did Mr Trump say about Russia?
Mr Trump said he regretted the meeting had shrunk in size, putting him at odds with most other G7 members on yet another issue.
"You know, whether you like it or – and it may not be politically correct – but we have a world to run and in the G7, which used to be the G8, they threw Russia out. They should let Russia come back in," he said.
He found support in the shape of the newly installed Italian Prime Minister Giuseppe Conte, who tweeted that it was "in the interests of everyone" for Russia to be readmitted. Canada though immediately said it remained opposed.
Russian President Vladimir Putin is currently in Beijing, where he was presented with a friendship medal by Chinese counterpart Xi Jinping.
What were the exchanges on the eve of the summit?
It was mainly France and Canada v Donald Trump, sparked by Mr Trump's imposition of steel and aluminium tariffs.
Appearing alongside host leader Justin Trudeau, French President Emmanuel Macron said: "A trade war doesn't spare anyone. It will start first of all to hurt US workers."
For his part Mr Trudeau described Mr Trump's citing of national security to defend his steel and aluminium tariffs as "laughable".
Never one to back down, Mr Trump fired off a series of tweets, keeping up the tirade on Friday.
Speaking to reporters before the summit he again criticised other nations for their treatment of the US but predicted tensions would ease and "we'll all be in love again".
UK Prime Minister Theresa May appeared to take a more conciliatory approach, saying she wanted the EU to act with restraint and proportion in retaliating to the US tariffs.
Unlike Mr Macron and Mr Trudeau, she won't be having a bilateral meeting with Mr Trump, but insisted on Friday it was not a snub.
What else can we expect in Quebec?
Mr Trump is leaving early to head to Singapore for his landmark summit with North Korean leader Kim Jong-un, meaning he will miss some of the topics advanced by Mr Trudeau.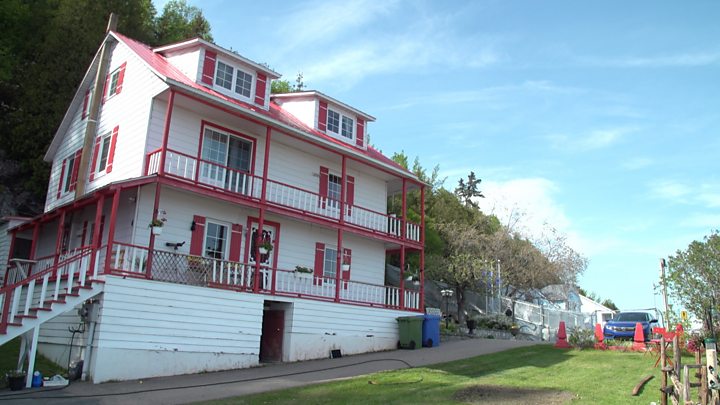 The fives themes for this year's summit are:
Inclusive economic growth
Gender equality and women's empowerment
World peace and security
Jobs of the future
Climate change and oceans
According to the leaders' programme, Mr Trump will be around for the economic and security issues being discussed on Friday but will miss climate change, the environment and probably gender equality on Saturday.
The US president was very much the odd man out on climate change during the G7 in Italy last year, later announcing his intention to withdraw from the landmark Paris agreement.
Iran is also a big sticking point. Mr Trump recently ditched the 2015 agreement with Tehran that aimed to curb its nuclear programme. This angered the other signatories who have since sought to shore it up.
Previous G7 meetings have seen huge protests, and about 8,000 soldiers and police officers are expected to be on hand during the Quebec event.
What are the US tariffs and what was the reaction?
Little short of a trade war is feared.
Mr Trump announced plans for tariffs on foreign steel and aluminium in March, justifying them on national security grounds.
On 31 May the US imposed a 25% tax on steel and a 10% tax on aluminium from the EU, Mexico and Canada.
Mr Trump has argued that global oversupply of steel and aluminium threatens American producers who are vital to the US economy, though his move has proved divisive even in the US.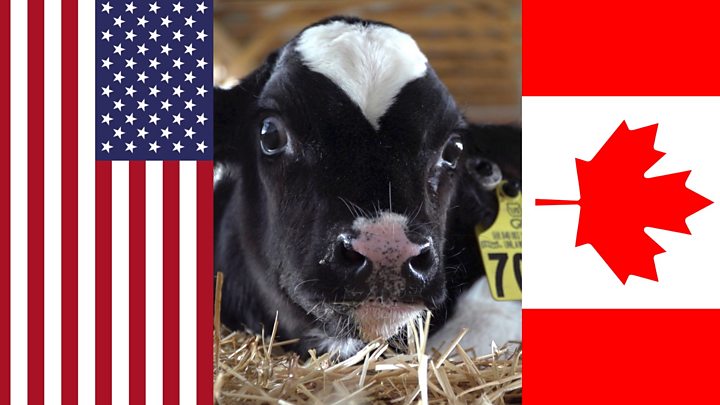 The countries affected by the tariffs are outraged. The EU called the move "protectionism, pure and simple".
A whole host of retaliatory measures have been put in place. Canada has targeted steel, yoghurt and whiskey; the EU bourbon, cranberries, jeans and motorcycles; Mexico pork legs and shoulders, steel, apples, grapes, blueberries and cheese.
What sets Trump apart?
Analysis by Andrew Walker, BBC World Service economics correspondent
The president appears to regard trade as an area where countries either win or lose, measured by whether exports are greater than imports.
Because the US has a trade deficit (it imports more than it exports) he sees it as losing, and that, he believes, is the result of bad deals done by previous administrations.
He also parts from his predecessors in having no enthusiasm for multilateral negotiations, preferring bilateral one-to-one deals.
And he has shown a much greater readiness to use trade barriers to force concessions from trade partners exemplified by his tweet about trade wars being easy to win: "When we are down $ 100 billion with a certain country and they get cute, don't trade any more – we win big. It's easy!"