North Korea has returned remains believed to be of 55 US troops killed during the Korean War, bringing renewed hope to families who have waited decades for closure.
The return of the remains, brought to a US base in South Korea, is the latest move in the cautious diplomacy between Washington and Pyongyang.
The repatriation was agreed at the June summit between US President Donald Trump and North Korea's Kim Jong-un.
It is hoped more will follow.
"It's hard to live your life not knowing what happened to your loved one," the daughter of one missing serviceman told the BBC ahead of Friday's news.
The Singapore summit, where Mr Trump and Mr Kim agreed to work towards the "complete denuclearisation of the Korean Peninsula", has been criticised for a lack of detail on when or how Pyongyang would renounce nuclear weapons.
But the return of US remains was one of four points actually listed in that June declaration, and comes on the 65th anniversary of the signing of the armistice that ended the 1950-1953 Korean War.
It is believed that 55 soldiers have been returned this time, but their remains will need to be forensically tested to ensure they are indeed slain US troops – and it's possible the identification process could take years.
John Zimmerlee, the son of a US serviceman who is among the missing, told the BBC there was no guarantee these were the remains of American soldiers.
Mr Zimmerlee, the founder of the Korean War Prisoners Of War and Missing In Action Network, said: "Keep in mind that these 55 remains that are coming back, these are people that they [North Korea] suspected were their enemy during the (Korean) war – not necessarily Americans.
"They could be British, they could be Australians, Belgians – could be a lot of different people."
'An emotional and symbolic gesture'
By Laura Bicker, BBC Seoul correspondent, Osan air base
The small wooden caskets were draped in the UN flag and carried carefully one by one from the aircraft onto US soil.
Hundreds of US soldiers and some of their families from the Osan base came to salute and line the route of their final journey.
Before the ceremony they'd been told they would be watching a key moment in history. They stood silently and watched.
Earlier I'd asked Korean War veterans from the US and the UK what this meant to them. Amazing news, they told me.
"This is an emotional and symbolic gesture," said another.
Why are US remains in North Korea?
More than 326,000 Americans fought alongside soldiers from South Korea and a UN coalition during the war to support the South against the Communist North.
Thousands of US military personnel from the Korean war remain unaccounted for and most of them – about 5,300 – were lost in what is now North Korea.
The missing US soldiers are among around 33,000 coalition troops still unaccounted for.
The remains are believed to be located at:
prisoner of war camps – many perished during the winter of 1950
the sites of major battles, such as the areas around Unsan and Chongchon in the north-west of the country – said to contain approximately 1,600 dead
temporary UN military cemeteries – China and North Korea returned about 3,000 dead Americans in an effort called Operation Glory in 1954, but others remain
the demilitarised zone that separates North and South Korea – said to contain 1,000 bodies
Between 1990 and 2005, 229 sets were returned, but this halted as relations deteriorated with the development of North Korea's nuclear ambitions.
What happens now?
A US military aircraft took the remains to the US base at Osan in South Korea where, according to the White House, a repatriation ceremony will be held on 1 August after some initial testing.
The remains will then be brought to the US to undergo thorough forensic testing.
The White House said it was "a solemn obligation of the United States Government to ensure that the remains are handled with dignity and properly accounted for so their families receive them in an honorable manner".
What has the reaction been?
The US government said it was "encouraged by North Korea's actions and the momentum for positive change".
The return of the dead soldiers was "a significant first step to recommence the repatriation of remains from North Korea and to resume field operations in North Korea to search for the estimated 5,300 Americans who have not yet returned home".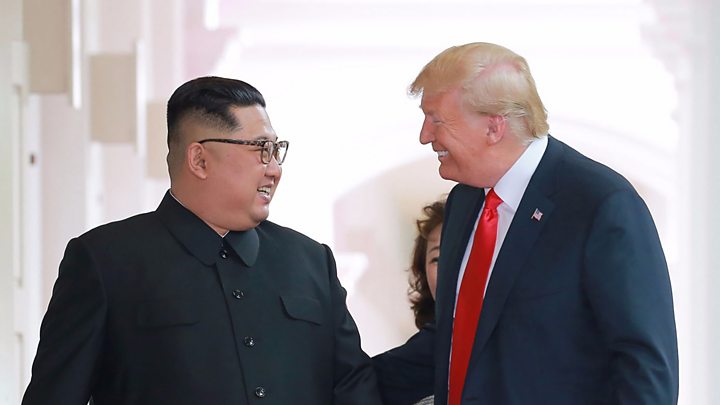 The repatriation will be welcomed by relatives who have waited decades for progress.
But Bill Richardson, a former UN ambassador who secured the return of six bodies in 2007, remains sceptical.
He told the Washington Post: "They'll give a certain amount of remains for free right away, but then they'll say, 'The next ones, we need to find them, locate them, restore them.' And then they'll start charging."
It is thought North Korea has about 200 sets of remains collected already.
What about North Korea's wider intentions?
The 12 June summit between Donald Trump and Kim Jong-un saw both sides speak with ambition about concrete steps to improve relations but experts have cast doubt on whether Pyongyang is genuine in its apparent commitment to "denuclearise".
Last week North Korea appeared to begin dismantling part of a key rocket launch site but there have been reports it secretly continues its weapons programme. Meanwhile, Pyongyang has accused the US of "gangster-like" tactics.
There's also been little clarity about what exactly the two sides mean by "complete denuclearisation" and no details on a timeline for this to take place.
Nevertheless, Friday's repatriation will likely be seen as a concrete goodwill gesture after years of efforts by relatives and US authorities to retrieve the remains.